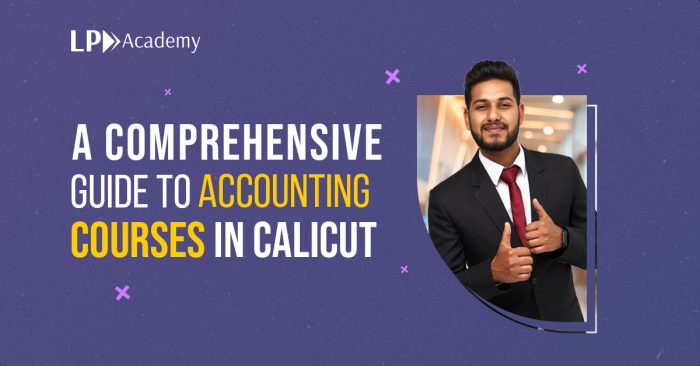 If you are on the search for accounting courses in Calicut, don't worry about a lack of options. The city has several accounting courses for budding accountants. These can be divided into three main categories – professional certification courses, ERP courses, and certification training courses. Here is a category wise guide to finding the right accounting course for your professional career.
Professional Certification Courses
Professional courses teach you what you need in an actual accounting job. Enrolling in a professional course can save you from being a confused newbie and can really brighten up your job prospects
Certificate Course in GST and Accounting Skills : LP Academy
This professional accounting course provided by LP Academy teaches you all the essentials of GST and accounting. The two month course covers all the key practices in these two areas. Additionally the course offers training in Tally Prime, an accounting software preferred by several businesses.
CBAT : Finprov
Another great course for aspiring accountants is Finprov's CBAT (Certification in Business Accounting and Taxation) course. The course, which is six months long, is a great way to familiarise yourself with accounting and taxation basics. The accounting portion includes managing accounts and balance sheets. The taxation component focuses on GST and income tax. As an added bonus you will learn how to use Tally and Quickbooks.

ERP Courses
The next category is ERP courses. ERP, or enterprise resource planning software is used to integrate all aspects of business management into a single platform. ERP software is starting to become preferable to traditional accounting software such as Tally.
Among the ERP softwares, SAP is a preferred choice for several businesses. SAP has applications to manage accounting related tasks. Thus those looking to enter the accounting field would benefit from being familiar with SAP software
SAP FICO Program : Beat Educations
In this certification course, you will become adept at the various processes involved in operating the SAP FICO software. SAP FICO is a popular software for business management.This 250 hour course which will train you in performing financial operations using the SAP FICO systems.
SAP Business One : Beat Educations
SAP Business One is currently one of the most popular ERP softwares for small businesses. In Beat Education's course, students will learn the various applications of SAP Business One, including the finance and accounting applications, which will be particularly useful for accountants. You will also be familiarised with the other components of enterprise management using Business One.
Training Courses : CA, ACCA, CMA USA
The final category is training courses. CA, ACCA and CMA USA are prestigious accounting certifications. Getting one of these certifications can be a game changer for your career. However, clearing the certification exams is quite the challenge. Signing up for a training course can make getting a certification easier for aspirants.
CA Program : ICAI Bhawan
The CA certification is highly valued within the Indian subcontinent. However the course is notorious for the vast amount of topics candidates must master and its low pass rate.
The training course provided by the Kozhikode branch of the Institute of Chartered Accountants in India is one of the best in Calicut. Students will receive training for the three levels of the CA examination. This course is the most affordable CA training program and has the additional benefit of being provided by the ICAI's own branch.
ACCA Program : Elance
The ACCA is an internationally accredited certification. With an ACCA certification, individuals can get jobs with MNC's in India and abroad.
Elance's ACCA program is quite popular. Many of the program's students have cleared their ACCA papers with great success, and several of them have secured top ranks at the national and international levels. The course teachers are well qualified and have a unique teaching style, which benefits students aiming for an ACCA certification
CMA USA Program : Chanakya Business School
CMA USA is a certification recognised in the US and in India. It is easier to obtain the CMA certification when compared to CA and ACCA.
Chanakya Business School has an excellent CMA USA program. The program boasts of an impressive 85% pass rate. Many students who attended the program have been placed with top companies after clearing the CMA exams.

Conclusion
The city of Calicut has several amazing accounting courses for students and professionals. Find out which certifications and skills will assist you in your accounting career. Once you have an idea of what you need to learn, search for courses that will help you achieve your career goals.