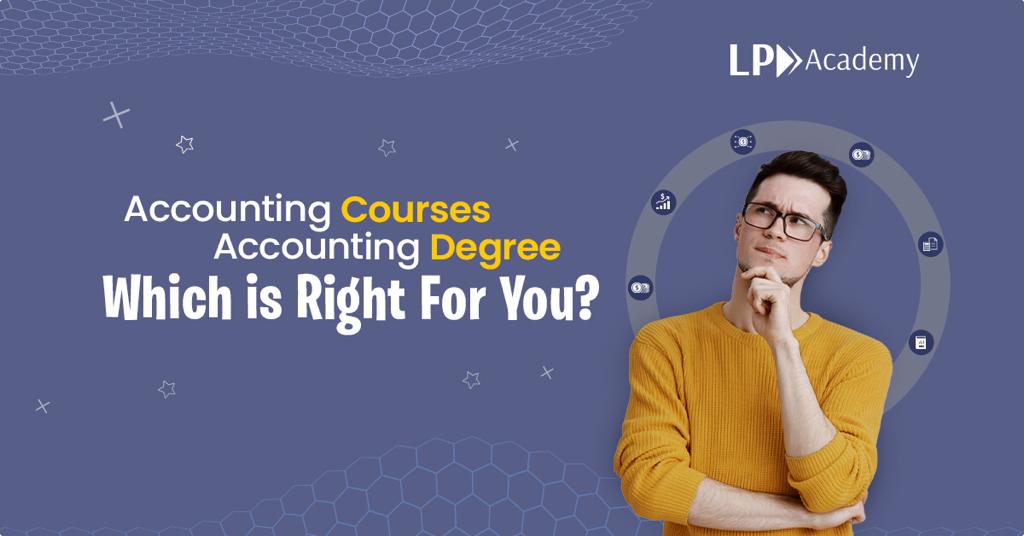 Accounting courses vs accounting degrees, which is the superior option? This is a rather close competition as both programs have their own advantages and disadvantages. In this blog we will compare key aspects of both programs, so that aspiring accountants can make a well informed choice.
Duration
In terms of duration, it takes significantly longer to obtain an accounting degree when compared to an accounting course. On average an accounting degree lasts around three years, while an accounting course can be as short as three months. The best candidates for an accounting degree are students who have completed their plus two. They will be able to pursue a program with longer duration. Professionals, and graduates would benefit from a course with shorter duration such as accounting courses.
Credibility
Academic qualifications increase credibility with employers. However different types of qualifications demonstrate different kinds of expertise. Having completed an accounting degree demonstrates that you are familiar with a wide range of accounting principles. Whereas an accounting course shows that you have expertise in a specific area. For instance a B. Com certificate is proof that you are adept in the theoretical aspects of accounting. While a professional accounting course certification, proves that you are familiar with practical accounting work.
Syllabus
When it comes to syllabus size, accounting degrees are the clear winner. The B.Com degree covers a vast range of subjects such as Financial Accounting, Business Laws, Economics, Taxation, Auditing and Cost Accounting. Under this degree, students get exposed to a diverse set of ideas and topics. The syllabus of most accounting courses, on the other hand, is focused on practical skills that will be needed in the workplace. Thus students will learn how to put accounting theories into practice. While a wider syllabus can improve understanding, a practically oriented syllabus can be beneficial in the workplace.
Flexibility
In the flexibility category, the trophy goes to accounting courses. Most degree courses have strict attendance requirements, and require students to be physically present for several hours a day. This makes it difficult to have any other personal or work related commitments. Alternatively, accounting courses have plenty of room for flexibility. There are several courses which allow you to move at your own pace and which offer online classes.If you feel like the rigid requirements of an accounting degree are too restrictive, then accounting courses are a far better option.
Cost
Cost is an important factor while choosing an academic program. Because degree programs are longer in duration, they are more expensive than accounting courses. However while searching for an accounting program, you need to keep the value of the program in mind. This means that you shouldn't just go for the cheapest course available. Instead, take time to research the program and see what you can gain from it. Whether you choose an accounting course or a degree, make sure that the program provides a valuable return on your investment.
Career Relevance
Between the two, which program is more career relevant? Since accounting degrees cover such a vast syllabus, students will learn a great deal of information that isn't relevant to their careers. This is not to say that the course topics aren't useful. In fact these subjects provide students with a strong foundation. However a good accounting course goes straight to the most relevant topics. Such courses cover GST practices, managing accounts, handling documents, using accounting software and a variety of other practical lessons. Learning these skills is a huge benefit for those looking for a career in the accounting profession. Thus the winner in this category is accounting courses.
Which is Better?
So accounting courses vs accounting degrees, which is better? Upon examining the two programs it is clear that they both have their purposes. Accounting degrees are good for building a strong foundation. They help to gain in depth knowledge about a field. Accounting courses, on the other hand, are better for gaining exposure to a much narrower skillset. They provide knowledge that is suited for practical purposes.  Since both programs serve different purposes and offer unique benefits, choose the program which is a better fit for your needs and requirements.