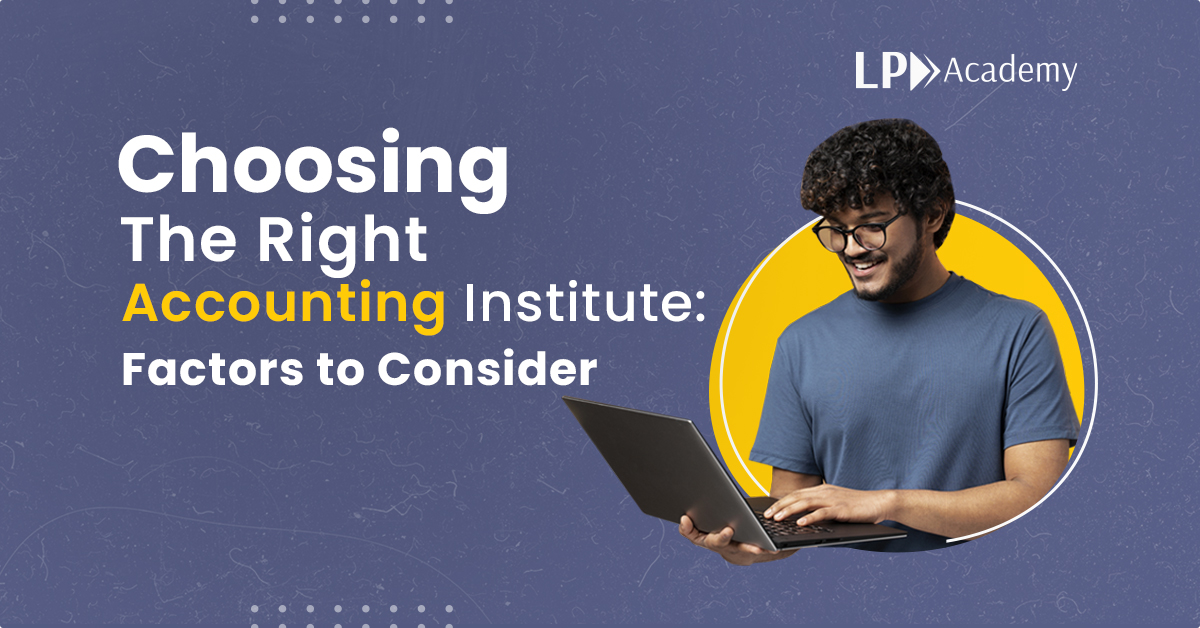 So you're thinking of joining an accounting institute, but you don't know how to find the right one. Finding the right accounting institute isn't easy. While a good institute can provide you with the proper training and assistance, a bad institute will just be a waste of your time and money. This is why you need to put in a significant amount of thought while choosing an accounting institute.
These are some of the aspects you should verify before you select an accounting institute.
Courses Offered
Search for accounting institutes that offer courses that are relevant to your area of interest. If Wall Street and the world of finance enchant you, then search for an accounting institute that offers CFA (Certified Financial Analyst) training. Or if you're old school and want to go for the accounting classic, the CA certification, focus your search on institutions that provide CA coaching.
Seek out institutes that offer the certifications you are interested in or that provide programmes that are aligned with your career interests.
Approved by Certification Bodies
If you take a look at institutes that offer ACCA coaching, you might see this claim: "ACCA Platinum Approved Learning Partner". Certification bodies such as the ACCA have approved learning partners. Approved learning partners are routinely assessed to ensure course quality, meaning that you will have a better shot at performing well in the exams. Similarly, the CFA Institute has prep providers, whose course material is approved by the CFA.
Keep an eye out to see whether your institute has any links with certification bodies and whether their courses are certification body-approved.
Instructor's Qualifications
It's often said that a good teacher can make you love learning, even if the subject itself is a little boring. Qualified and skilled teachers will definitely make your learning journey easier. Find out whether the institute's teachers have the necessary qualifications. It's preferable to search for instructors who have industry-specific experience, as they can teach you skills that will be invaluable in your career.
Professional Skills Training
Getting a certification isn't the only thing that will help you get you a job. There are so many other valuable skills you will need while working. Learning how to build up your resume, how to prepare for interviews and how to communicate in a workspace are a few skills you need to learn. It's an added benefit if you can learn the practical applications of what the course teaches. Some institutes give you the opportunity to learn with simulations of real life scenarios.
Try to find an institute that will train you in the necessary professional skills.
Exam Coaching
Every certification exam will require a unique strategy. If you want to optimize your exam performance, look for an institute that teaches you how to prepare for the exam. Find out whether the institute will provide you with the support you need while qualifying for your certification course, such as doubt clearance, question patterns, and question banks.
Reviews from Previous Students
Students who have firsthand experience with the institute can tell you their personal views about it. They can give you their honest feedback about the institute and the course. Oftentimes, institutes make grand claims, but if you want to know the real deal, approach someone who has actually attended the programme. Their feedback might save you a world of regret.
Job Placement Statistics
Keep in mind that you are joining the course to improve your career prospects. Check out what sort of jobs the institute's students are getting. Consider whether joining the institute will open you up to well-paying jobs. You should also try to find out what percentage of the students get placed. Try to look for an institute that offers placement assistance after the course and helps you get a job.
Course Fees
Expensive doesn't mean quality. Don't fall into the trap of enrolling in an overpriced course. Find out the standard rates for the course and avoid courses that will drain your bank account. Price shouldn't be considered in isolation but in the context of the institute's facilities, syllabus, faculty, and job placement. In this manner, you should be able to identify the best course for your budget.
Do Your Research
A certification course from a reputable institute can be useful for your accounting career. But make sure that you have properly researched all your options before you make your choice. Find out all the information you can about the institute and talk to previous students prior to making your decision. If you do your research, you can find an institute that offers you the skills and knowledge you need.